Join Dr. Shamini Jain and Curandera Grace Sesma for a conversation about honoring life and death as the natural cycle of living, and sacred ways of remembering our ancestors on Dia dia Muertos. For the past several years, Grace has answered the call for guidance from people of all ethnicities and backgrounds who, lacking a ritual of their own, have found a heart home where they can honor their beloved dead during the annual Dia de Muertos celebrations. She will welcome you and your ancestors into her circle with reflection and prayer to set the intention of opening our hearts to the teachings that the Day of the Dead has for all of us. Mindfully enter into a special Dia de Muertos meditation practice and learn how to respectfully experience Mexican Day of the Day as a vibrant, joyous, living tradition that continues to be revered and celebrated by Mexican, Chicanx, and Indigenous communities in Mexico and the United States.
Grace Alvarez Sesma
Mexican/Yaqui Cultural Practitioner and Educator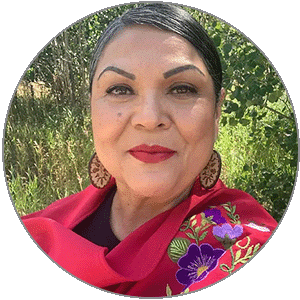 Grace Sesma provides Mexican/Indigenous cultural services to individuals and families through her Curanderismo healing practice. In the workplace, she works with individuals and organizations affected by problems arising from cultural differences. Grace works with mental health therapists and other healthcare providers to promote an understanding of Mexican and Indigenous culture-specific interventions and to encourage mutually respectful collaboration.
Grace shares knowledge of traditional concepts and beliefs, protocols, spirituality, and healing practices; Advises on how aspects of traditional cultures can be compatible with requirements of the contemporary workplace; and, provides opportunities for management and staff to become knowledgeable about, and sensitive to, the historical experiences of Indigenous peoples of Mexico, United States, and Canada, and their contemporary situation as well as the vision they have for themselves and their community.
Grace has a consulting and private healing practice and collaborates with healthcare providers to integrate allopathic medicine with traditional Indigenous healing. She's an advisor to the House of the Moon and the Kanap Kuahun Coalition. She serves on the Yaquis of Southern California tribal council, the Consciousness & Healing Initiative Practitioners' Council and the Academy of Integrative Health & Medicine BIPOC Committee.